Yes We Fulfill Order Flow
Customer
Your Store
Order
Yes We Fulfill App
Yes We Fulfill Team
Product
Order Flow
The Order Flow illustrates the order process from your store until they get shipped.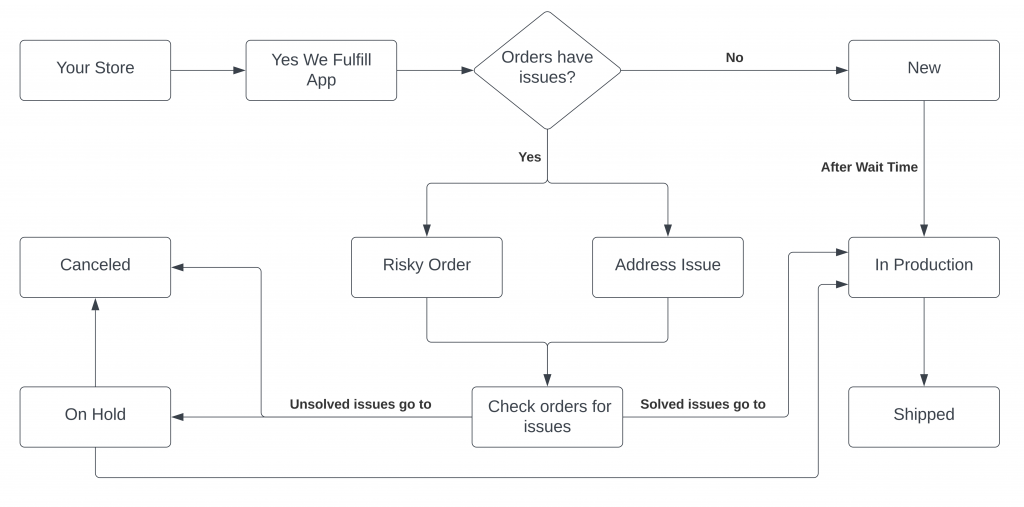 Common Terms Used
Wait Time – specified time you decided your orders to wait before the App will move them to the In Production folder. You can choose from 1 hour to any number of days. The specified wait time is always visible at the top of the Orders List page for your reference.
Risky Orders – a threat of fraud orders. This is to let you review the order to validate its legitimacy before proceeding.
Address Issue – an order that has an issue with the address. The App is detecting common address errors or missing fields like the Street Address, City, State/Province, and/or Zip Code.
Custom Designs – orders with customers own design.
On Hold Orders – orders you put on hold and would not be processed yet.
Canceled Orders – orders that are canceled and will not be processed.
Shipped Orders – orders that are shipped and fulfilled.
Still Stuck? How can we help?