Order List Details
Your order list page shows the following order information: Shopify Order #, Order Date, Customer Name, Total, Payment, Order Status, Items ordered, and Shipping Availability.
Shopify Order #
The number in your Shopify Order # column is the order # of your customer from your store.
Shopify Order # format : #<######>

Date
This is the order date when the order from your store is confirmed.
Date format: <YYYY-MM-DD>

Customer Name
On the order list page, the displayed customer details are Customer Name and Customer Email. To view more information about your customer like the Shipping and Billing Address you can click on the order #.

Total and Payment
The amount shown in the total column is the order Subtotal amount. It's the Total Price of the Item(s) purchased less the item(s) discount. To check the amount, click on the order #.
For Payment, you have Unpaid, Paid, or Partially Paid. This payment column here is your invoice payment status. If you set the status of your invoice to pay, then all orders inside the invoice will have a payment status 'Paid'.
The payment status of all orders inside the invoice will have the same status as your invoice, except for the canceled invoice, the order payment status will be unpaid.

Order Status
This is to determine the current progress of customer orders in the App.

Items
This is to determine the no-line items ordered.

Shipping Availability
All orders will have the standard shipping option. The shipping method will depend on the availability in the country. You can only upgrade to express shipping if that shipping method is available in your country.
There are some countries where only Express Shipping is available. For countries that only do express shipping, you are required to upgrade the shipping method from Standard Shipping to Express Shipping or cancel it.
When upgrading to Express Shipping, additional charges will be applied.
Note: For Countries where there is no shipping method available. You need to contact your customer and advise them.
Search Order
You can search for an order using the following options: search box, calendar, and the order status drop-down.
After making the search, you'll see the list of orders that match your search.
Search box – allows you to search using the Order #, Customer Name, and Total
Shipping Calendar – allows you to search by Order date.
Status Drop-down – allows you to search order by status. It will show all orders according to the selected status and you will be redirected to the current status of the order.

Order Wait Time
The App order wait time shows beside the Order List. When the set order wait time is reached, the App will change the order status from New to In Production.
You can set your Order Wait time at Settings > General Settings.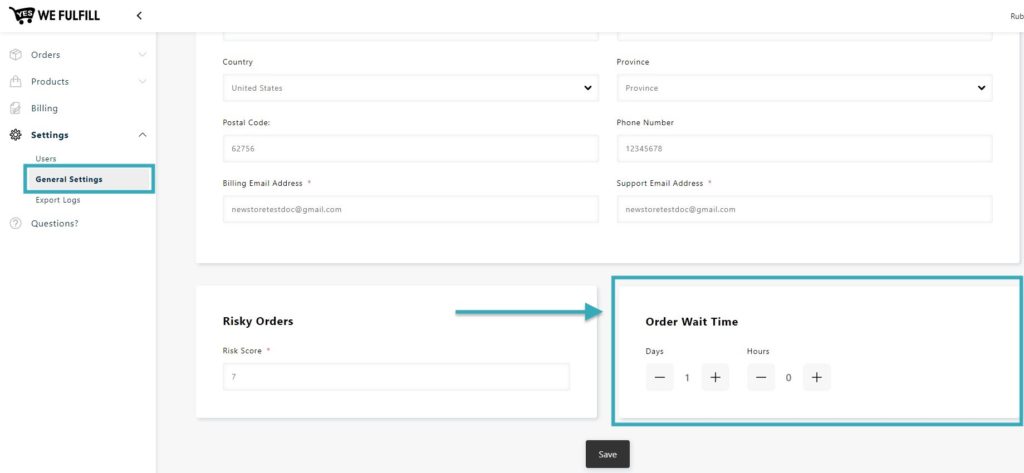 Learn more about Wait Time in Order Process Flow.
Still Stuck? How can we help?